Brian Kinnes is a Superhero
...who happens to be a film editor

Written by:
Christopher Chance
︎

Warning... this is a LONG one. I found the entire situation with Brian to be extremely interesting, but he himself proved to be far more intriguing. I did a podcast with him you can listen to right here, but if you want to read the story of the most interesting editor in the world instead of listening, read away! I met up with Brian on April 28th 2023 to get the scoop on what happened. I got that, but what I also got was the story of a true fighter, and someone who WILL get to the destiniation they are striving towards.

This is the story of Brian Kinnes.










Act 1 -

A blessing from the sky





With four films he edited coming out this year, Brian Kinnes isn't a guy with a lot of free time. The job of an editor is fucking hard, gigabytes on gigabytes of footage, audio, and various other assets to all be sewn together to produce the final product - a video you all get to watch stress-free. We all know what happened with Frank Ocean at Coachella, and thanks to Morgan many of us at home were able to watch the performance live even though Coachella didn't stream it. Yet before the madness even begins, I see a tweet from Brian that says:





As a Frank Ocean Stan, I've become accustomed to unorthodox ways of consuming his art. Downloading a track-listed version of the ambient music he played on Endless, going to Panorama all the way from VA to catch him perform, and waiting for my entire high school career for even a single…. Being a frank Stan is like listening to music on veteran difficulty. In 2017 Brian made a FYF recut that many of us have watched, without knowing exactly who made it. It's an extremely important thing he did, being that my memories of Panorama are a blur, and the recordings of FYF helped me piece together my memories. Unfortunately, the only memory of the Coachella performance I have is laying in my bed at 4am, dreading having to wake up and go to work in the morning. I get online the next day to see the whirlwind of commotion around the controversial performance, but through all of the fire on my timeline, a Phoenix arises from the ashes. Brian posts a timeline from Davinci Resolve, showing that not only has he started on a rebuild, but the first cut is also done and will be coming soon.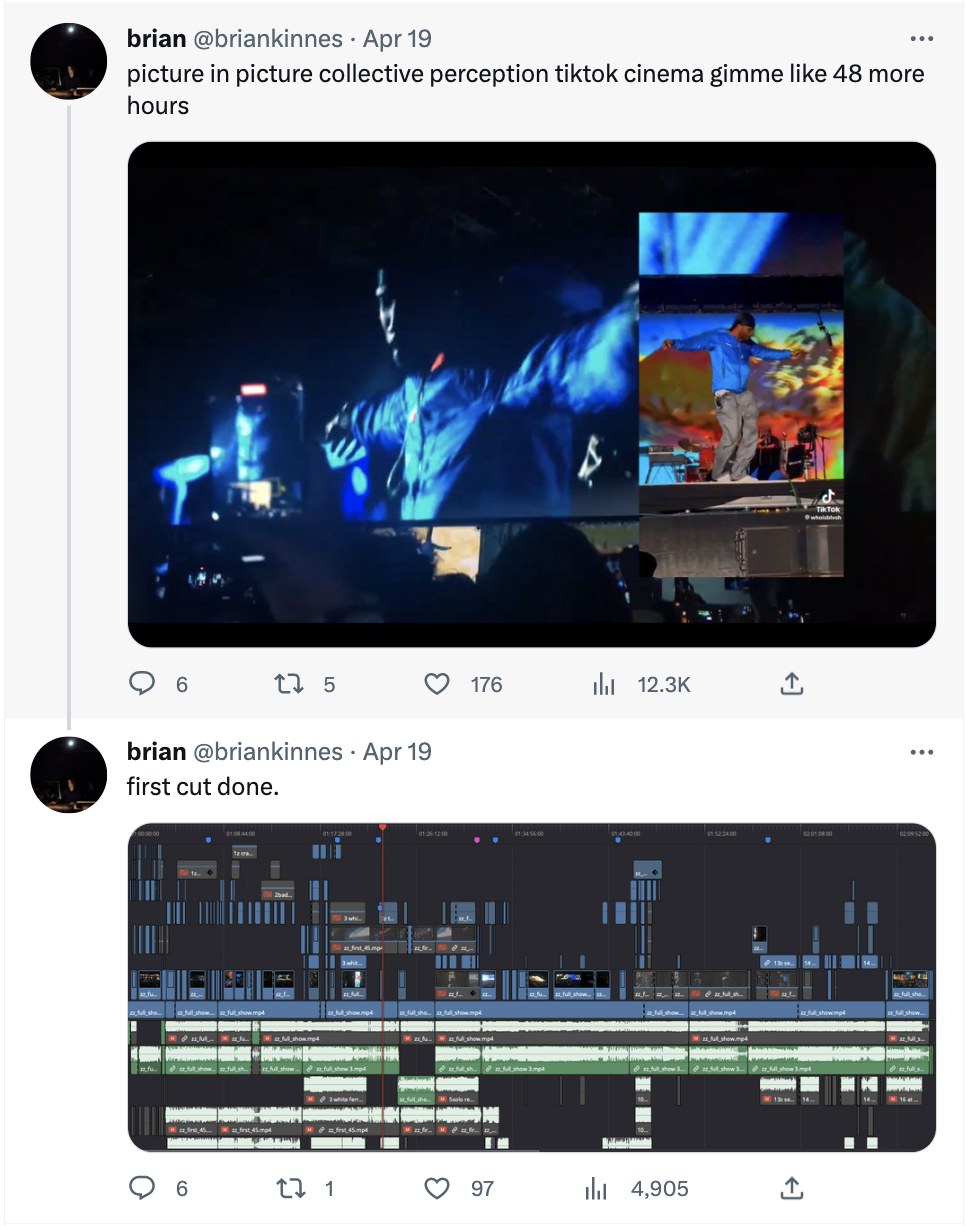 To do something like this overnight you have to either be a workaholic, insane, or truly love editing. I think he's the latter, with a dash of the formers lmaoooooo. Brian didn't know he was an editor for a long time. In fact, he didn't know what he was at all. It feels like every person I know involved in anything to do with editing or cinematography found their start making trick shot montages on Call of Duty, this situation is no different.


"I taught myself to edit when I was like in middle school making Call of Duty montages"


Middle school Brian saw him using Adobe Premiere CS3 (the first software he ever t*rrented) to create Quick scope montages on Black Ops 1, which is important because this was the first COD with a Theatre system. This allowed users to watch games they played over again but from a directorial perspective. This gave an entire generation the fuel to chase their cinematic dreams and become the future of the film industry. Yet even though he was making full-on videos and dabbling in photography/videography, he didn't know he wanted to be a filmmaker at that point.


"I was not one of those kids watching good movies early, I didn't see Pulp Fiction until I was 17. It took many years and many different experiences to land at editing."


Our story starts in Portland, Oregon. After editing montages, Brian branched out into more day in the lifestyle videos with his friends. This then lead to him and his good friends creating a creative agency called "Evergreen" that he claims made nothing but their own in-house projects, so relatable fr. Various art projects like music videos and short films "really bad stuff" were made under this brand "You got to get the amateur shit out of your system, and it takes a long time". After graduating high school early, Brian thought what many people thought, go to college and get a business degree you have no idea what to do with. Still, at this point, Brian didn't know he wanted to be an artist. Yet after enrolling in community college he starts to finally direct music videos - a hint at what's to come.



Richie Woods is a local artist from Portland, in 2015 he created a song called "Wendy" - a bedroom pop remix of "Love In This Club", which serves as Brian's first director credit. The video blows up and boom, Brian drops out of community college. After ditching the educational route, Brian was forced to work various jobs to support himself and appease his mother's wishes. After grinding between his day job and filming music videos, he finally meets the artist that would change his portfolio forever. At the time he wasn't the popular artist we all know today, he only had one mixtape out and was a bubbling artist in Portland. Brian met Amine.




As many hungry photographers do, Brian approached Amine via DM and was asked eventually to shoot at one of his shows. They then start a creative partnership which saw Brian taking all of his photos, helping with his media production, and rollouts. 2016, A year later after they met, they link at a coffee shop where Amine plays Brian a record he thinks is going to blow. It's the demo version of Caroline.


"That was the only time in my life that a musician I worked with played me a song and I was like "This. Is. A. Hit."


Brian's first ever written music treatment was for this video, the first version which he says was not the vibe was scrapped. Over the next month, Brian and Amine would meet in empty Portland State University classrooms, where Amine was enrolled at the time. Here they would plot out this music video. Not only did he write the treatment, but he also scouted locations, styled him, sourced the props, and hired a local kid to shoot it…. All for 200 dollars. Peaking at number 13 on the Billboard Hot 100, and now 6 times platinum, this was a big deal for not only Amine but Brian too. Despite this success, Brian still didn't know what he wanted to do.




A short time after this still in 2016, Brian starts going to LA to sleep on the couch of the infamous boyband "Brockhampton". He ended up living with them the next year as they created the Saturation trilogy, getting involved in their music videos.

"Not as a director or anything, I was just there. Once again still in this situation of what am I? What am I contributing? What is my real skill set? And I didn't have an answer to it. Ian (Kevin Abstract) who became one of my close friends through that process. He saw that desire to be something without having a label."




This led to Brian going on multiple tours with Brockhampton, spending ample time with the group down to even helping film their ViceLand show. (Is Viceland done too?). Brian went on to say that after a few years in the music industry, it essentially chewed him up and spit him back out. Him not being established led to him getting underpaid, and fucked over by managers. After Brockhampton's Ameer controversy, Brian moves back to Portland in 2017 after living the rapper tour life, to go back to a regular job.



"I went like what felt like the top of the mountain, to the bottom"



Maintenance man, conveyer belt worker, these were the types of jobs Brian had to work while fighting his way back to the lifestyle he had grown accustomed to. Eventually, his light at the end of the tunnel came from Portland's most valuable export - Advertising.

"Just do it was written in Portland."

Brian says as he emphasizes the city's advertising legacy. A man by the name of Nic Adenau approached Brian about an opportunity at an ad agency named Instrument, after seeing his work in the hip-hop world. One thing leads to another and he ends up getting a job there as a creative assistant. He was the youngest creative, and the only person there without a college degree (shout out all college dropouts). Though he started with a role that could have been called "Coffee Fetcher", after 3 years at Instrument Brian finds himself as the agency's primary narrative editor and a junior motion designer. He credits advertising as a place where he truly found his skill set, with all of this knowledge he now had, he decided he finally knew what he wanted to be - a filmmaker. June 2021 found Brian maxed at the agency, he was doing high-level work for the most soulless brands and found himself creatively malnourished. While his coworkers were all 30+ starting families, Brian was catching corporate cold feet.

"I was just around the corner from the biggest raise I ever I'd ever get in my life, but this is not what I want"

I added that taking that raise in the agency world is essentially signing to death row, goodbye to your life..



"Very soulless work, but I learned so much. I feel like I can make movies now…. But how do I get to that?"






stills from KJ Rothweiler and Rebekah Sherman-Myntti's film "Salamader Days"

Like a script of a movie, Brian gets a call asking for an editor on an indie film in NYC.

"This is it"

Brian said before he turns in his 2-week notice, sells everything he has, and moves to NYC with a duffle bag and a suitcase. This dude edited the movie he signed up for 11 months, and he didn't even see the script before signing up… talk about balls. The film is called Salamander Days, a coming-of-age film that he cut 33 versions of. Upon completing the film he gets an opportunity last minute from director Kit Zauhar, after seeing the script he accepts it, but this time he only has 5 weeks. Opposed to the 11 months he spent last time. Y'all get it at this point You get it, this guy fucks man.


So, why and HOW did he make this video?






Act 2 -

In The Blink of an Eye

"I made that Frank edit in 2017, and that was the first feature-length project I ever put out in my life. So I had no fucking clue what I was doing"




Brian explains as he breaks down how he approached the frank performance. With the former coming out 6 years ago, Brian now a seasoned film editor was ready to knock this performance out of the park. The most important resource he had this time opposed to 2017 is simple - Tik Tok.

"I'm going to find as much footage as I can, and I'm going to chop this shit CRAAAAAZY"

The commitment to finding 50 gigabytes of footage the day after a concert drops is insane, but Brian's philosophy on justifying this labor makes perfect sense.

"Theres three elements that need to be in play for a video like this to even have a reason to exist. First, it has to be a generational artist performing, it has to be rare for them to perform, and the third is the concert cant be recorded."

He goes on to explain that if all three of these are not in play, there's legit no reason to do this. He clearly is explaining this is a once every blue moon situation… one he was prepared for. But this cant be the first time this has happened….right?

"I've started calling the 2017 version the world's first found footage concert film - because it is. The only precedent is in 2006 the Beastie Boys made a concert film where they handed 50 handy-cams out to the crowd - that's the closet. But it's not found footage".

So this really is something we've never seen before. After Coachella announced the show was not going to be live-streamed, he answered the call.



"I didn't have anything to work on that week, I'm just in my bedroom with my humble editing set up - let's run it"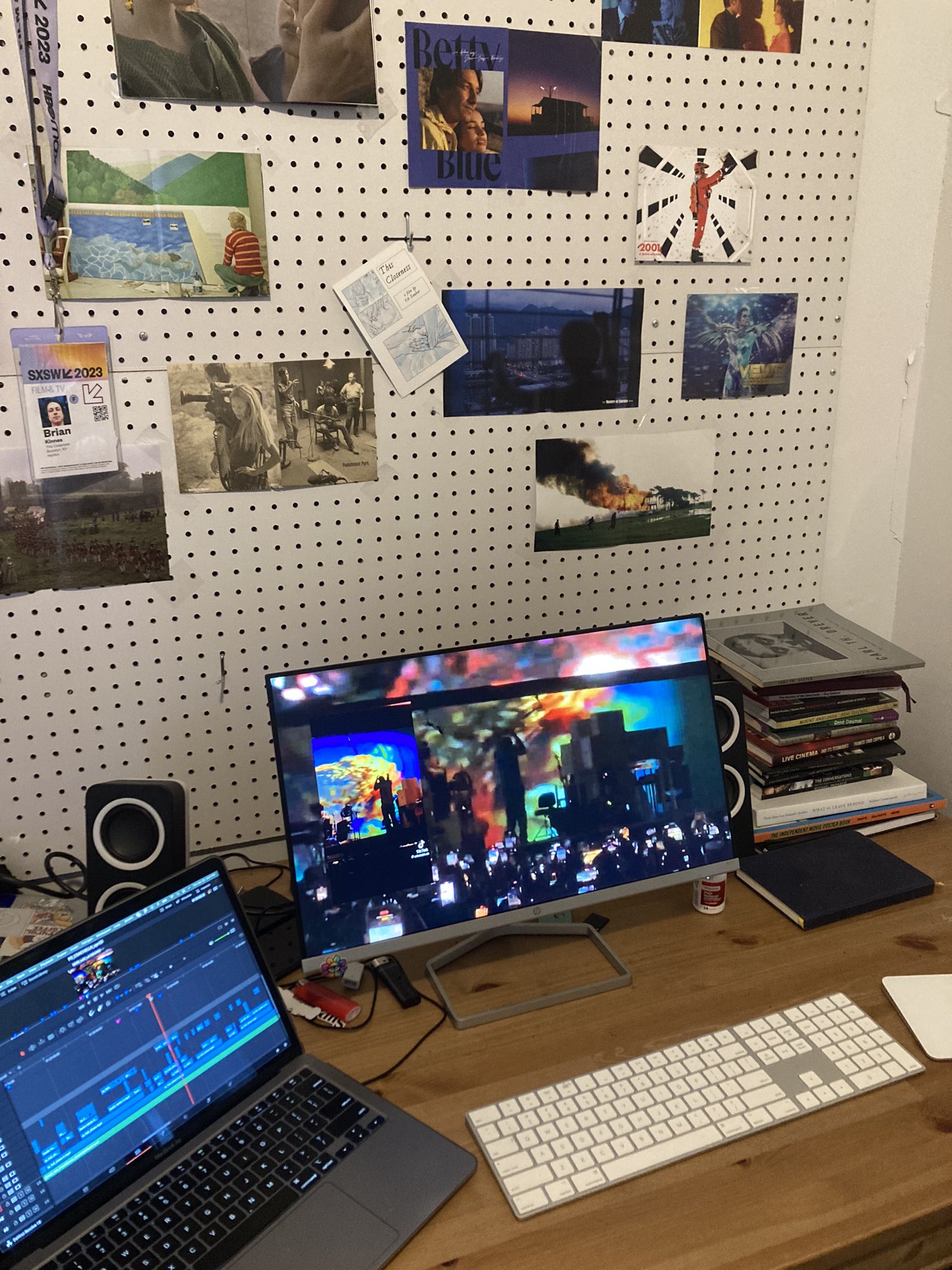 photo via Brian's twitter.

(Before we take off of here I asked Brian what his set up, the nerd in me was dying to know the NASA-esque setup he probably had… but it was not like that at all. He used Davinci Resolve, which he cites is easier to edit on a laptop with. His computer of choice was a MacBook Air, with a wireless MacBook keyboard and trackpad. His hard drive is a Samsung T5 SSD, which held the 50 gigs of footage he used for the film.)




"In order to make a video like this, if anyone wants the guide… the first 24 hours after the performance are the most crucial. Because The collection of the footage is such a skill. The night he performs, I'm watching the Instagram live. I have a notes app open, and I'm recording the timestamps of when the songs start. So I know not just the order of songs, but roughly the time it takes as well."



Brian clearly is fucking cracked (cod term) when it comes to editing because no regular person is just going to do this, but the dedication to detail is something that's so apparent with him and is what sets his work apart from the rest.

"Immediately after he walks off stage, I'm online downloading every single performance video that gets uploaded. The thing that people don't really think about, that first wave of footage that goes out that night… super fucking crucial"

His platforms of choice to gather the footage were Youtube, Twitter, and Tik tok. Stating that Instagram is not that great of a platform to download stuff, and he's right. IG why do I have to turn into an internet hacker to download a video like Im tired of inspecting my elements?



"Youtube search now is fucked, it gives you like 12 things then shows you carpool karaoke. That first night when you search Frank Ocean Coachella, it's ALL performance footage. At 10 AM the next morning, it's reaction footage when you search. So you have a tiny window where all the footage is going out. A lot of the best stuff is uploaded days later - but that first wave of footage will end up getting deleted, copywriter, and most importantly buried by the algorithm"







He goes on to talk about how many clips in the video are impossible to find now due to the algorithm. I found this to be the most interesting aspect of the film, it's literally an archive of a moment and footage that will most likely all be lost to time. In 2017 he was looking to fill the gaps in the videos, but this time it was different. He sought to find the absolute best shot of every scene he could. This leads me to ask "How do you go about finding the "best shot"



"I had a version of the edit done in 36 hours, but I was like this could be a lot better. So for 8 days, I was finding footage and trimming. I watched that performance in full - 60 times"



The invisible rhythm is something he then speaks about, saying that is what he focuses on when editing. This is when I started getting very excited because boy oh boy do I love hearing about how someone did something. Maybe it's because of all those episodes of "How It's Made" I watched with my mom.


"

For anyone listening that wants to be an editor I'm a Student of Walter Murch, who's is one of the greatest living film editors, and has written the Bible on film editing - "Within the Blink of an eye,"



Brian said as I started smiling from ear to ear. I was never able to truly describe what he just explained but it was so satisfying to finally hear it haha.






"The idea of the invisible eye of the audience…The big question for editing is when do you cut? He has this theory that there is an invisible eye of the audience, and when that eye goes to blink - that's when you cut. The cut becomes invisible because you should be cutting at the exact moment the audience would blink, opening their eyes to a new shot"



This is the philosophy he uses to edit the illusive performance we all are searching for. Using an interesting way of editing together Tik Tok videos and landscape long shots, Brian is able to create a concert video that's editing is equally as exciting as the actual performance. One moment you're watching a normal view, next thing you know you get an up-close perspective that appears on your screen similar to VH1's pop-up video.

"I wanted the video to feel like you were watching the show from every possible angle at the same exact time"

This form of editing allows us as viewers to move around this event at warp speed. Through his editing were able to experience the front-row seat and the back-of-the-crowd perspective at once.

"Imma have a wide shot from the back of the crowd, then imma have a barricade (shot) where you can see the sweat dripping down his face".


The brilliance is beyond the concert being seen, but all of the different people and perspectives are represented in it. Someone who watched it from the back of the crowd and someone who waited all day for a front row is both shown, giving not only scale to the video but also showcasing how many different ways people viewed this spectacle.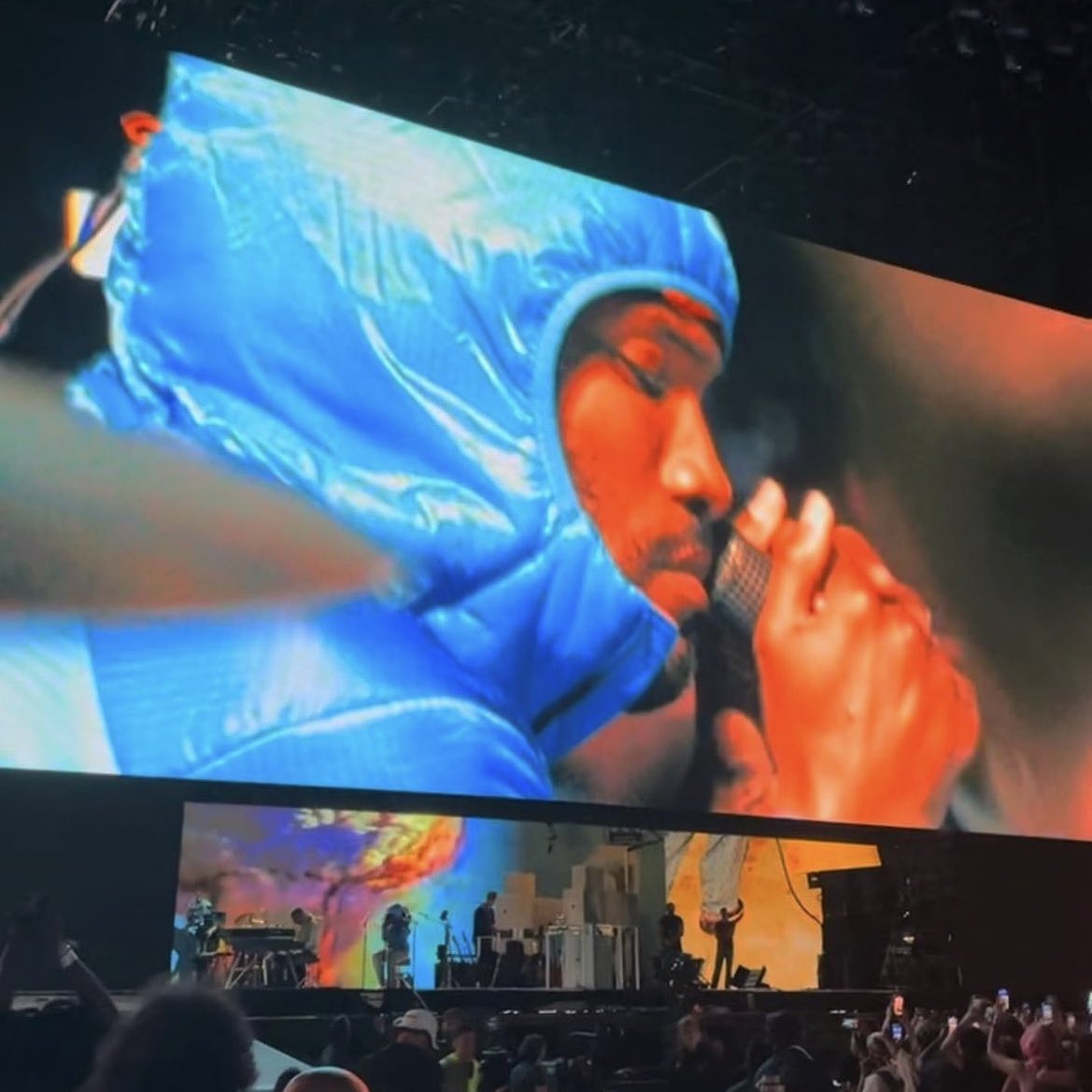 "The most interesting thing to me about this whole process, a few things happened. The set becomes extremely controversial, and then two.. he drops out. When I started editing the video, I was fully assuming weekend two was going to go on without a hitch, and he was going to have a perfect livestream. I needed to get this video out by Friday because it was going to be irrelevant by next Sunday"

Brian said as he explained the time crunch in getting the video out originally. But suddenly, that window of time expanded way further than he ever imagined. Frank Ocean, who is notorious for canceling shows, cancels weekend two as he's editing the video. This begins an actual thunderstorm between social media and Frank Stans, citing his performance as lackluster, and truly turning his entitled privileged fanbase on him.

"Then I'm sensing the public opinion on this performance, but I'm watching more footage than anyone else on earth like yo this is insane"

Not only did he have the only real put-together video of the performance in his possession, but he also had the power to change the entire publics opinion about a beautiful performance that was boiled down to one video of Frank enjoying the masterpiece he created.




"As I'm cutting this stuff, I have a totally different opinion on this set than everyone else. So I started thinking of what the video could be, in my wildest dreams it becomes a companion piece to the performance and is able to change people's minds. I already got so many Reddit comments of people like "This video changed my mind"




If you actually watched this performance there's literally no way you can think that it's ass. Groupthink is something that the internet age has been absolutely destroyed by, allowing one opinion to take control of thousands of minds at once. Example? Yall forget the hashtag #wholelottatrash? Yea, I fucking didn't. So many times amazing things that people haven't even experienced or seen yet are muddied by someone else's opinion. Did Frank cancel the ice rink? Yes. Did he likely lie about his ankle injury? Yes. Does that change the fact that the concert itself was still an amazing self-referential art piece? No. Frank Ocean showed how much life is still in music, his album which is approaching almost 8 years old, is not produce. It's not something that after a couple of days it'll expire. He played us newer versions of his older songs simply to prove that point, something that if you don't watch the performance, you simply won't get.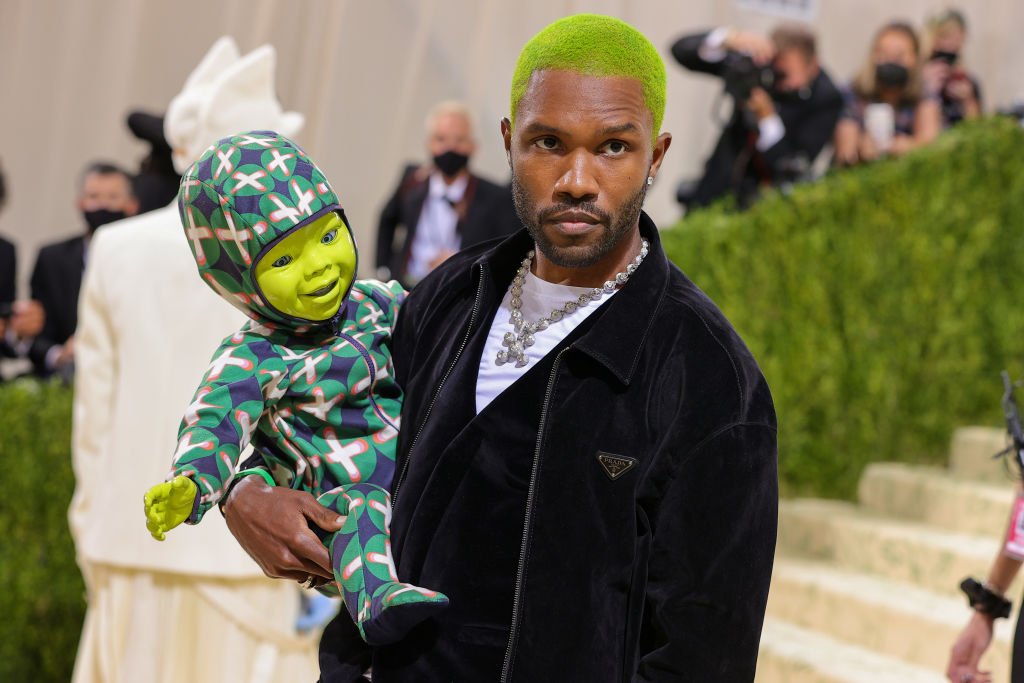 "It was so sick, and motherfuckers wanna just hear lost"

Brian exclaims, Yea it's sadly true. I think that Frank Ocean has completely unequipped his audience and the music industry in a way that they have absolutely zero control over him. No, think about it, after endless and his def jam finessing, that nigga has literally had no one telling him what to do - and he loves it.




He's the first black artist of his stature and influence I've seen completely take his life and privacy and creative integrity and put them all in a safe inaccessible from any of us. He isn't in service to us, in fact, he's reversed it. This is how you take off all these years and come back with a jewelry company you own the mines to. He completely broke the game and turned his fanbase into an infinite money glitch, and it's all because he made the best album of our generation. Most amazing black artists either end up dead or crazy, but Frank seems to be doing fine, from what we see of course.



"People didn't get it because it wasn't even for (the fans) at Coachella. That's why it's frustrating the video can't be seen"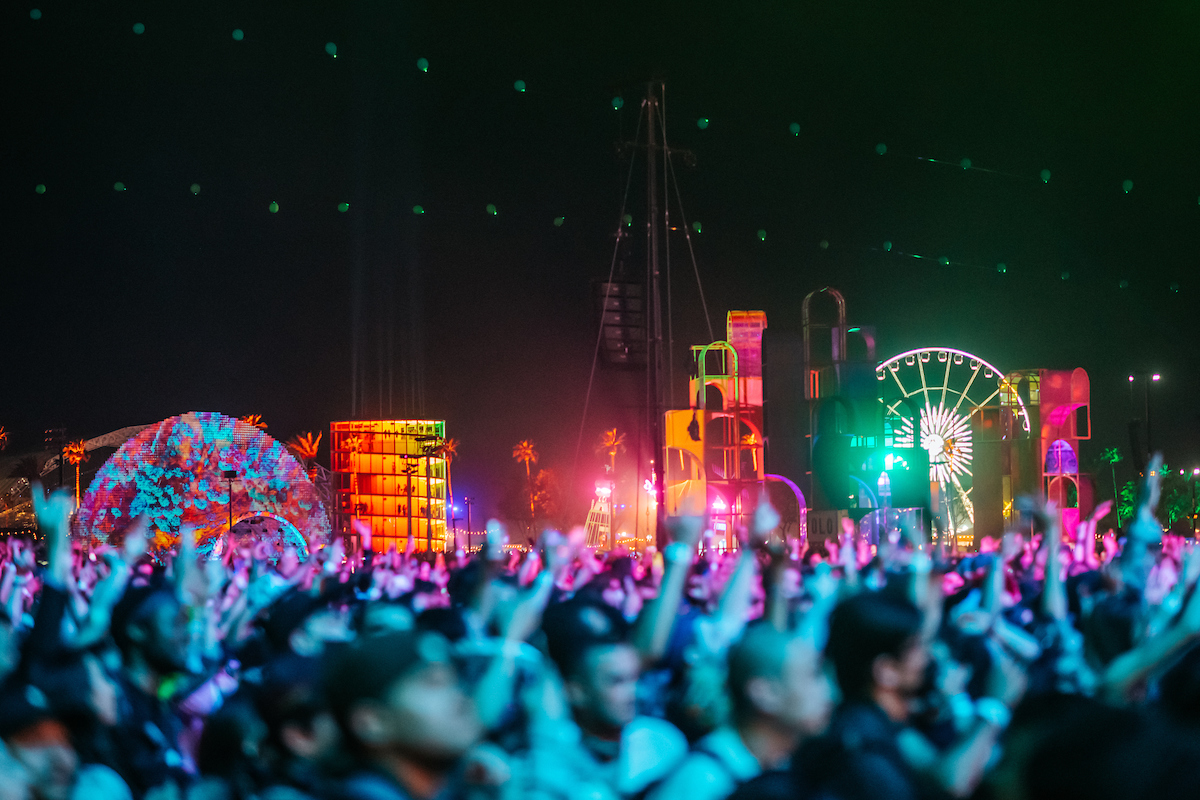 This is also the disconnect I've seen a lot. Frank did a very artsy set for a bunch of rich privileged white kids that wanted to hear "Nikes" and "Thinkin' Bout You." The people that this woulda went over well with, real fans like us, couldn't see it without Brian's herculean effort. He opens with Novacane to shut up everyone, stops playing it 20 seconds in, and restarts with a sped-up rendition. "Crack Rock", "White Ferarri", "Iceman", DUDE PLAYED "FLORIDA". THIS WAS FOR THE REAL NIGGAS BRO. I was at Prep in 2019, my girl from Louisiana, I be at the raves, and I get the entire performance. The set in the middle was so fucking cool and shout out to Crystallmess for killing it out there. Then when he finally plays the hits, he lip-syncs them. Ngl all that sounded gangsta to me.




"This is a service to society." I told Brian as I gave him his flowers. "I wanted this cultural moment to be documented, I made a film that you can sit down and watch"

Opposed to the videos from the back of the concert that you just throw on and play in the background, Brian sought out and succeeded at making something actually exciting to watch, making an already alien-like event even more breathtaking.



"I know what it's like to be a 17-18-year-old kid watching something on the internet like "I could have made this!" Yea you could have, but I been doing this shit for 8 years, so start working now."

Brian reminds any other up-and-coming filmmaker

"Read Eisenstein's essays from the 20's, read Walter Murch, edit everything you can get your hands on for five years, and then you'll be ready to edit a movie. You don't have to go to school, you just have to read the right shit, edit for 5 years, and watch 1000 movies… then you'll be fine"

Coachella wants to sue him but everyone and they momma knows nothing should happen. I find it hilarious that every major publication has gone to that headline simply for the clicks. Brian wasn't there, Brian just loves music and editing and merged his two worlds perfectly with this project. Thank you, Brian, for taking this interview on such short notice, with him starting on number four of the films he's editing this year, the fact he was able to get this out in the one week of free time he had shows where hard work gets you, and how following what you feel is your destiny always leads you to the right destination. Follow ur dreams! Thanks for reading all of this also, there's way more in the actual podcast so go listen to that now! But until next time…

"Whenever he performs again and there's not a live stream… I'll be there"


briankinn.es
madeintheurl 2023