The Summer Style Guide Issue

#003
Written and Photographed By:
Robb Shettlewood

︎
Issue #3 is heating up with special guest HotGothWriter and she's doing it all: dropping great stories on Hypebeast, being a walking encyclopedia of industry personnel and sitting courtside next to all of our WNBA crushes.


URL: What's been the vibe this summer? you've been all over, ur the traveling journalist, always chasing a story. what you been up to.

HGW: Hmmm, what's up? I just bought a Usm Haller desk for my crib. Mm-hmm, you know, normally I'd be buying clothes or like renting whips to go on the road, but something about buying the sexy designer desk just needed to be done right now.

URL: You have more adventures than anybody I know. What's been your favorite summer trip?
HGW: Oh, maybe… Vegas was cool. I don't know why. It was a work thing, but I liked it.
URL: What was the highlight of Vegas?

HGW: Ooh, definitely All Star Weekend was a highlight, you know, it was like the most important time in the season. Mm-hmm. The WNBA season is arguably more important to me than Paris Fashion Week. I totally forgot I went to Paris Fashion Week haha


URL: That's BARS.

HGW: It's just something about the things I care about. I just feel like WNBA All Star was more important than Fashion Week.



URL: With your style, do you feel like that love for sport shows? Are you the juxtaposition in those spaces? Are you combining the universes?



HGW: Oh, for sure. I feel like every time I'm seated courtside I gotta represent for the SSENSE girlies, even though I don't shop that much at SSENSE. Just like that idea of bringing like the emerging edgy fashion brands. Mm-hmm. and yeah, I have kind of been trying to take my corporate sports bag more seriously and dressing more designer-sporty. Because I work for the league, I don't wear any team merch. I only wear league merch or like high-end designer sporty stuff like a Mugler jersey, Marc Jacobs varsity, shorts, heels. Heels, always court side type shit.
URL: You can't wear team merch but as a fan of the game, U must have a team?

HGW: I like the New York Liberty or the Los Angeles Sparks just cause I grew up as a huge Lakers fan my whole life.



URL: Are there any players whose style speaks to you or you just root for?



HGW: I don't want to speak on a player's style, but recently I met Natasha Cloud who has amazing swag, amazing energy, amazing tooth gap. She's from Philly, very nice. She's also signed To Converse, which is quite rare.



URL: So true yea that's super rare, I think back to D.Wade having a converse shoe when I was a kid.



HGW: It was crazy. I have a good story from Allstar. I didn't know I was seated court side at the All-Star game until like five hours before the game. The whole day. I was like, do I wear Jordan's or do I wear heels? I'm like tripping, I'm asking everyone on set what I should do. And they're like, "no run the heels." So like two hours before the game I go into some cursed designer mall in Vegas. I'm like begging for some prada kitten heels haha. They don't have any in my size. I randomly go into Dior and I find a pair of heels that I actually really, really like. Um, and it, it just felt good to buy a new pair of Dior heels and have the writing pay for it.



URL: This is what we do it for forreal haha. What else has been fun for you this summer?



HGW: I've been really into talking about character archetypes for like brands or for even like individual people. Mm-hmm I feel like sometimes people have like made up characters that they like to dress as and stuff or like a type.



URL: Do you have an archetype for yourself?



HGW: I have a few different archetypes that I either swap or combine, but my main archetype is looking like a rich girl who just got out of rehab. So a lot of like worn, unbranded, dingy cotton, like random little designer accessories. I like that. I like looking like a divorced mommy too. And then like designer sporty girl vibes.



URL: I love it. Those characters really came through in the looks you put together for the style guide.



HGW: Yea, what's your character?

URL: Hmm prob like Kaiba from Yu-gi-oh when i'm on my dark and shadowy or Jotaro Kujo when i'm on my sexy.

HGW: Nice. I like when brands have character archetypes that you can pinpoint too, you know what I mean? Like what kind of girl would this brand be? Like what kind of cigarettes would she smoke? I like when you can really nail down– not even style but like energies or habits.



URL: Like really studying your target audience.



HGW: Yea u get it



URL: Lets talk about some of these pieces from the shoot. The "Cocaine High" shirt?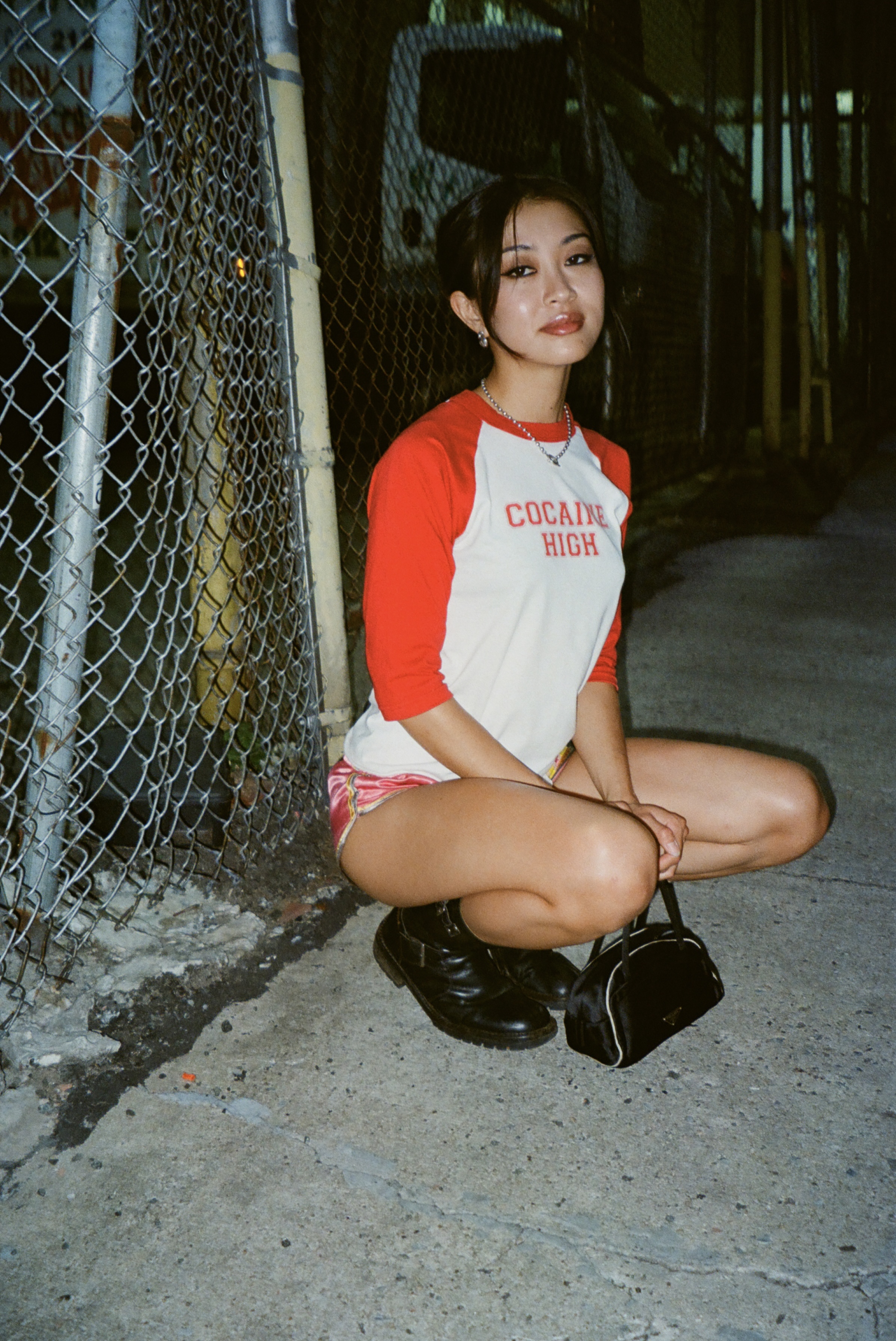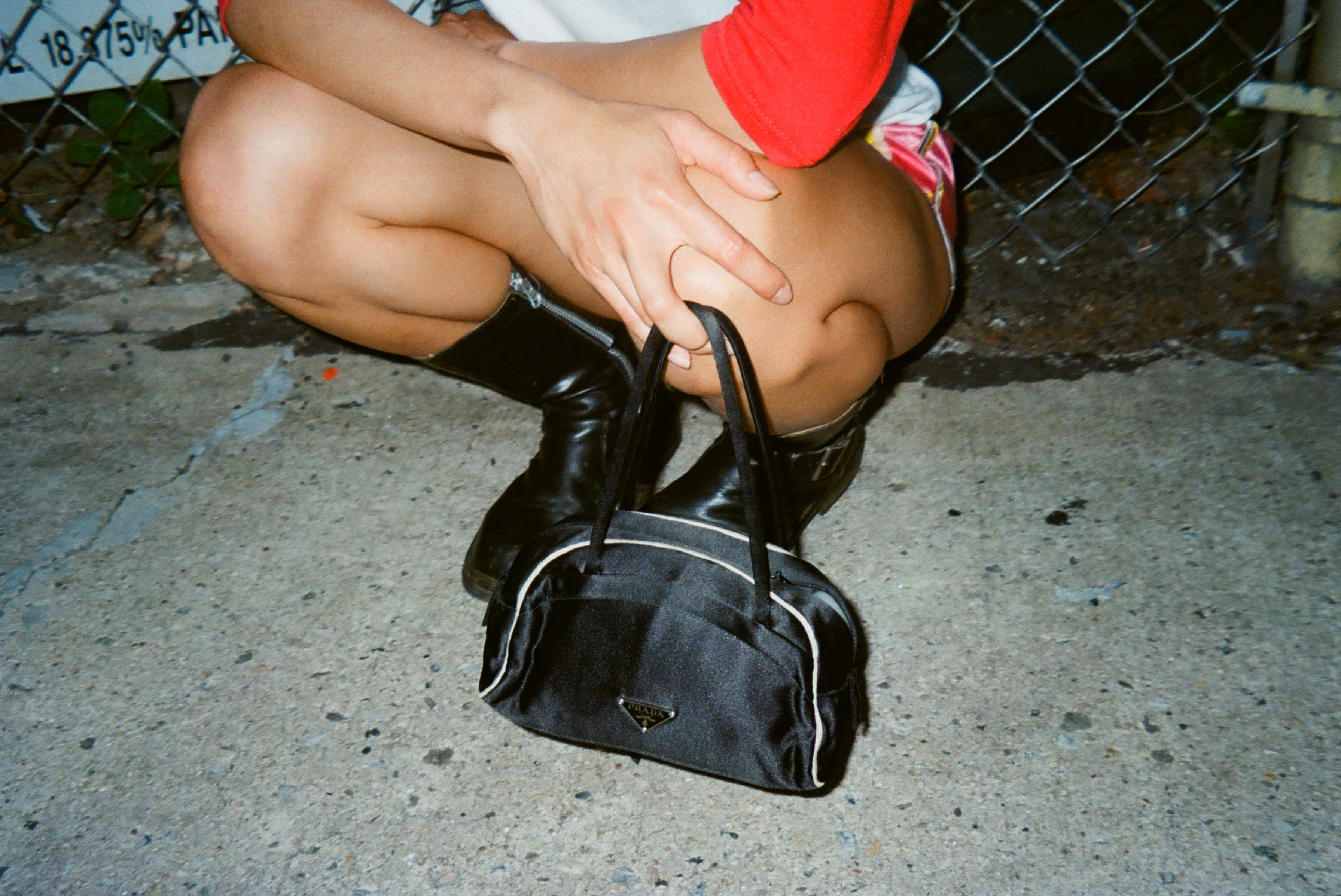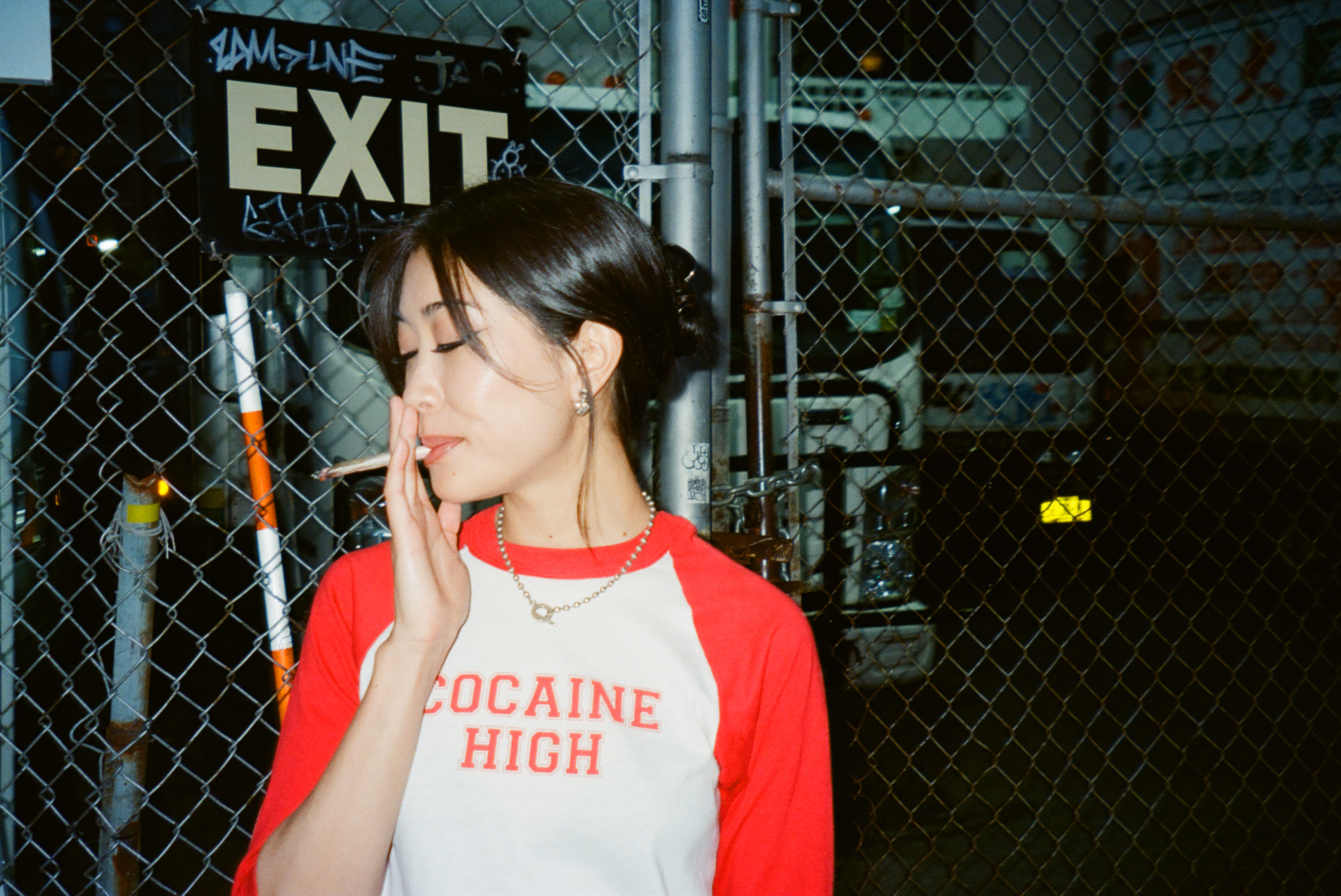 HGW:It's actually from the seventies. It's unbranded. It's from my vintage dealer in the bay Known badboy. He's a huge vintage seller in the Bay.

URL: Fire. I love this fit.

HGW: Yeah, me too.



URL: Hmm tell me about the mini Prada purse with the mirror






HGW: Yeah. So um, I collect designer drug accessories. So Prada mini purses in the nineties. Think like tiny little club bags that like Kate Moss would wear to like the table, Little Prada bags. They got these really heavy mirrors inside the pockets. Um, and the mirrors are like engraved with the little prada logo. They're way too heavy to be like a real mirror. Like you know that it's something else. haha



URL: What do you feel is a "must wear" for the summertime? How do you stay cool but still get your pieces off?



HGW: I like wearing shorts and boots in the summer. I think shorts and boots are really important. Um, I like getting away with wearing a bikini top. I try to keep it pretty simple. I've been just wearing white, white beaters and this one white button up shirt every day. It's nice to have a button up shirt to just like throw over.



URL: Sun protection is so essential. Speaking of, you've been killing eyewear. What are your go-to brands/pairs?



HGW: I have a lot of sunglasses but I just got this pair of Margiela shades from like 2009 like, you know, 2009 Kim K Vibes. But they're called the Incognito Stars and I love these sunglasses. I bought them cause I feel shy at parties. Balenciaga nose pieces actually don't fit people with really flat Asian nose bridges.



URL: Do brands make different fit shapes? I gotta do my homework on that…



HGW: Oh my god. Yeah. Most designers, some, not most, but a lot of designers sunglasses, brands now or sunglasses brands in general. They have East and West Fit. and the Eastern one is for people with smaller nose bridges, it'll just have more padding. cause most shades will just fall off my face or sit on my cheeks.



URL: Favorite pieces you wrote this summer?



HGW: I'm still really juiced on my Omar S interview cause I did that interview in March and then I drove out to see him for movement in May. And I feel like going to Detroit in May put me in really good energy for the summer.

URL: What was that Detroit trip like?



HGW: It was cool. I drove there in a Dodge Charger with my best friend. Yeah, it just made sense.





URL: What does being a writer 2023 feel like, lifestyle wise?



HGW: Well, I feel like writers are insufferable, writers are kind of, um, nice narcissist, writers are also kind of whores, conceptually. Um, being a writer in the contemporary age is tricky because today the way people read, they're reading for content not reading for real for good writing. Most of the time, you know, a lot of the writers or pieces that do well are timed to be released well strategic. Yeah. Uh, very coordinated with their social posting, you know, it's not truly about writing the most beautiful piece anymore. So I think it's nice to do writing to sustain yourself. But I think it's also really essential to have another separate writing practice that's more of what you want to do. I've been really consistently writing in my diary, which I love and that never gets posted. That's just for me. People can't know what I'm writing about. Haha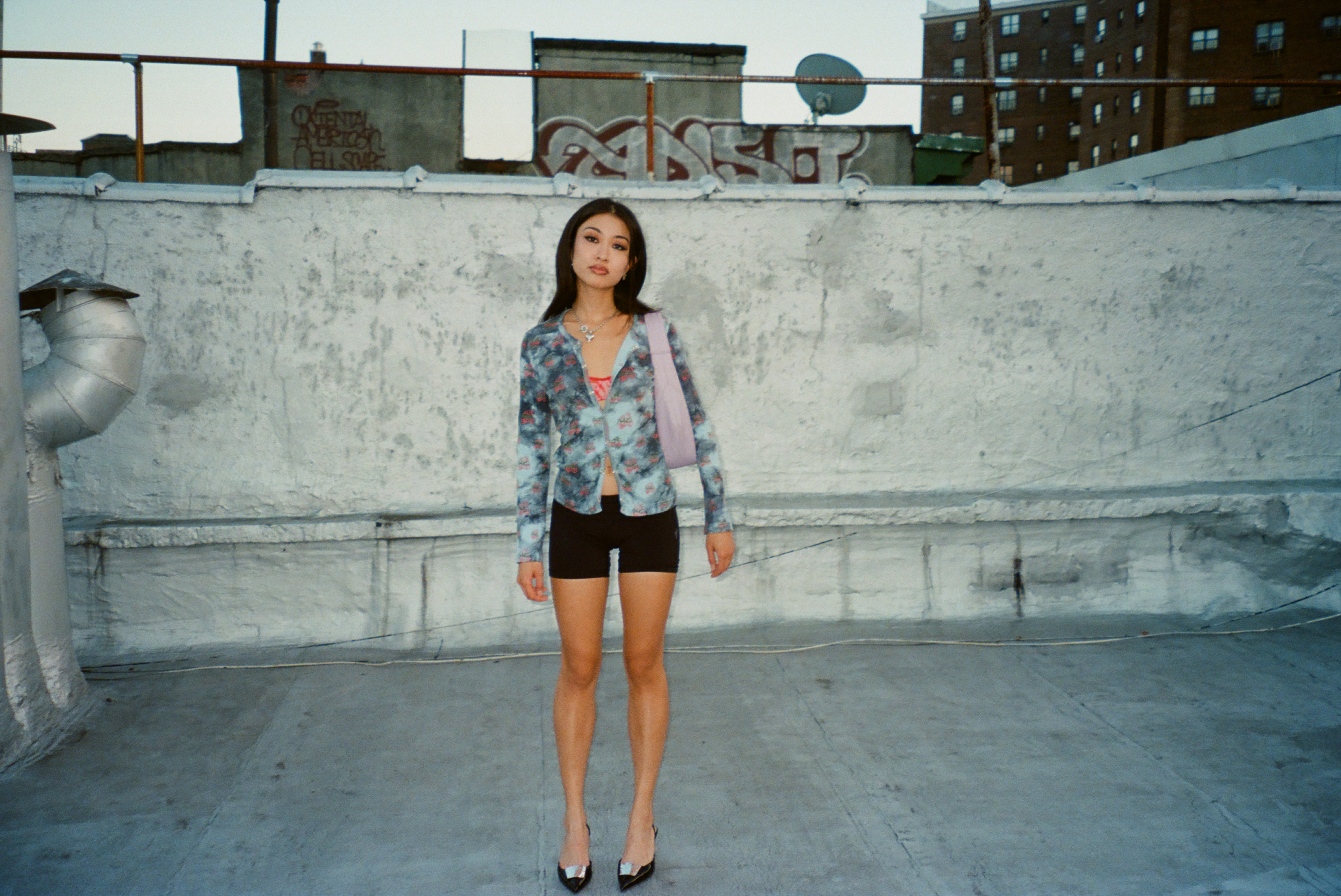 URL: From one writer to another, facts. If you weren't a writer, what do you see yourself doing?



HGW: Well, first I wanted to be a curator, like a visual arts curator. But I didn't really wanna play in the art game and I was always hanging around like a bunch of cool creative kids. You know, everyone has their– whether it's like photography, DJing, modeling– everyone kind of brings something to the table. My friend looks at me one day and he's like, uh, you shouldn't be that person who sits around and does nothing or like brings nothing. And I'm like, okay. Yeah, no, that's so true. We were talking about that and, and then that's when I started writing. So I've always been good at talking to people and telling stories and just yea, being organized.



URL: What's your take on style right now and like the outside scene?



HGW: Um, we've been pretty calm. It's been pretty regular, you know. Now you can get away with wearing like sneakers or like the most basic to the club or like to go out and like before like, I don't know, I feel like it wasn't as lax

URL: Tings have changed.



HGW: Yeah. I also keep trying to keep the realness of the real presence of pretty privilege in the forefront of my mind when I'm getting ready to go out. Like when you got on that fly fit and you're just looking bad as hell… you're looking extra special when you step out… you know how much better it is to step out? You know how much easier it'll be to get in everywhere?? You know how much better your night will go??? That's a real thing. Like I been trying to remember that this summer.



URL: Pretty privilege really is the thing. Yeah. Yeah. Badness can unlock any door.



HGW: Yeah. And it's like you have to obviously take in like, uh, put in the time and effort to do that, but it'd be worth it. Especially when going out.





URL: I agree. You never know who you're gonna run into.



HGW: I hate that. It's tough. You gotta hate it. I hate that concept. It's crazy what a good fit can unlock for you in New York City. It makes sense. I hate it.


Check out her Anna Bolina SS24 article for a look into NYFW.
︎
-URL