Written by:

Christopher Jaeckel
︎
There seems to be a cultural reawakening to the phenomenon that is PHARRELL WILLIAMS from music, clothing, jewelry, and more, and it's recently been punctuated by his appointment to creative director of menswear at Louis Vuitton. If not closely paying attention, it would be easy to miss his omnipresence and prolificacy throughout the last few decades.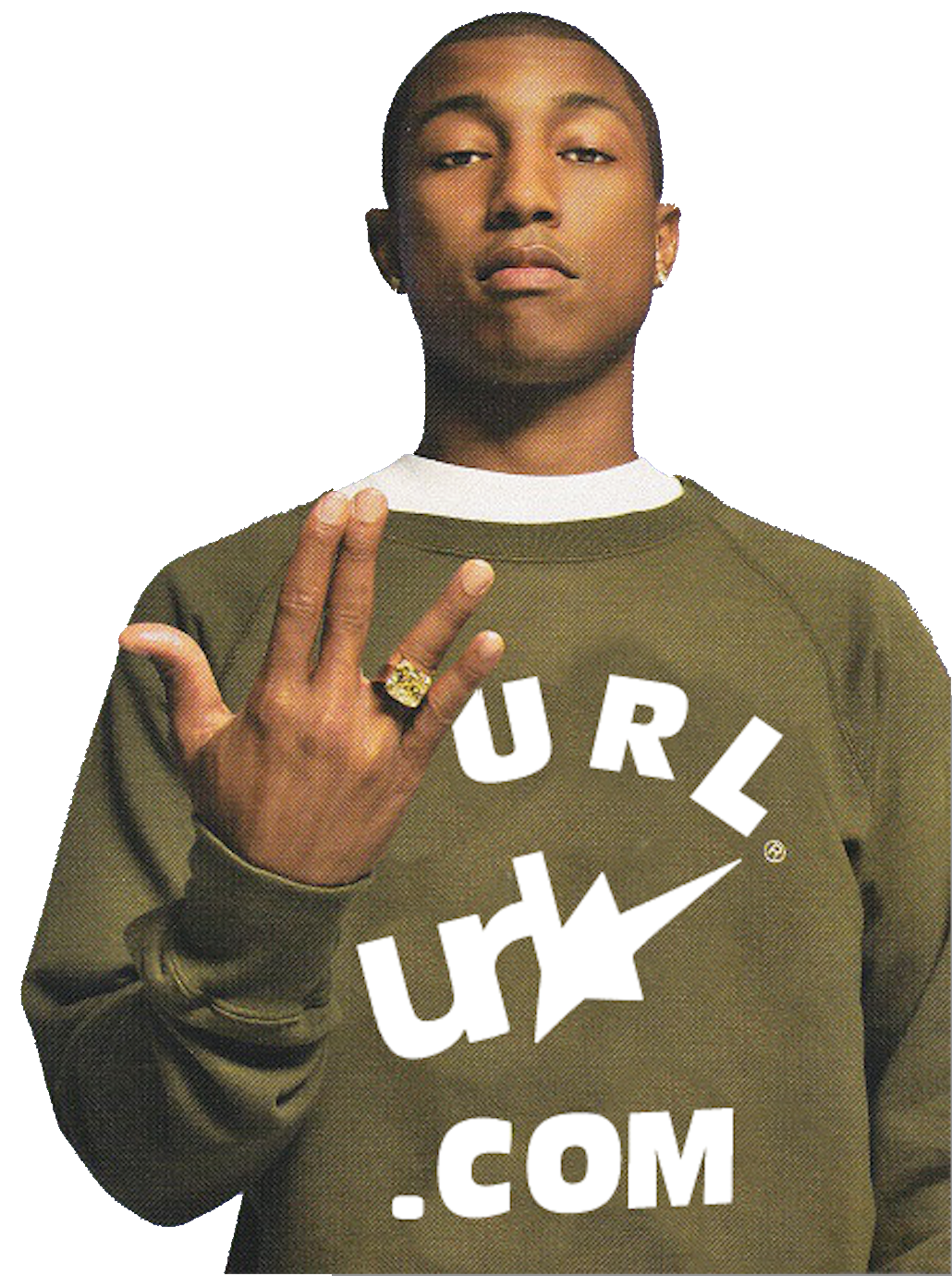 Though, most people know more of his work than they might realize, with his name in the liner notes of countless household songs. With his wide-ranging collaborations, distinct eras within his career, and near-constant artistic output, he's become a figure in pop culture with a storied legacy and catalog, being equally present in the mainstream as he is in the niches. There is seemingly always something else to discover, and one of the main causes of the mystique is PHARRELL's refusal to relish in (or even acknowledge) his past work, a trait that has also allowed him to continue to be ahead of the curve. Being as prolific as he is, it's inevitable that things get * fossilized, abandoned, or just fall through the cracks of centralized streaming services, so here are just five of many relics from PHARRELL WILLIAMS' musical career, unearthed from the archives of the internet . A recent rare occurrence of this was the unveiling of Joopiter, his global digital-first auction house where dozens of iconic * Pharrell pieces were showcased in SoHo, New York City.

︎︎︎︎︎︎︎︎︎︎︎︎︎︎︎︎︎︎︎︎︎︎︎︎︎︎︎︎︎︎︎︎︎


1. N⋆E⋆R⋆D - Lazer Gun

A bonus track on the Japan/U.K. version of their 2008 album Seeing Sounds, this gem, like many other CD bonus tracks in history, somehow was never migrated to streaming. PHARRELL has always turned to themes of outer space, notably in his clothing line Billionaire Boys Club where the figurehead is an astronaut, and in the production duo consisting of him and CHAD HUGO, THE NEPTUNES. Like many N⋆E⋆R⋆D tracks, the magic of LAZER GUN [sic] lies in its ability to be greater than the sum of its parts; a quirky electric piano loop, bouncing drums, and guitar are effectively all that is here. But, like the transcendent nature of the album's title, with just the essentials and PHARRELL's eccentric imagery, the track takes on a vivid intergalactic personality. The signature NEPTUNES chord progression change of the chorus launches it off the ground, and the muted singing electric guitar swirls around like a spaceship around a planet, with PHARRELL, SHAY, and CHAD right in the center, masters of the galaxy, with their laser guns in-hand. N⋆E⋆R⋆D was never afraid to be imaginative and borderline cheesy, a trait that definitely turned off many overly serious listeners. But this allowed them to create a deep and personal bond with young dreamers and open-minded listeners and made space for those listeners to connect with their childlike wonder while also scratching a musical itch.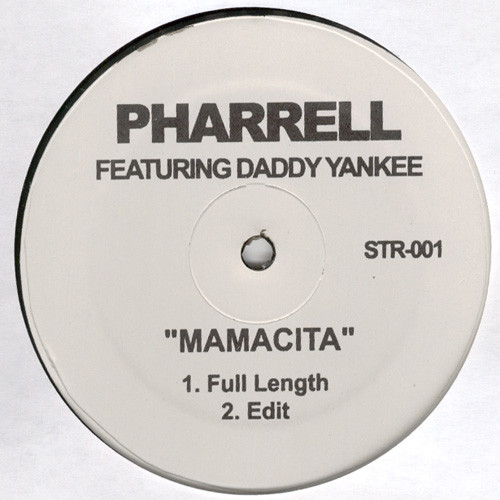 2. Pharrell & Daddy Yankee - Mamacita (Out Of My Mind Version)

Similar to N⋆E⋆R⋆D's live-version reissue of In Search Of…, PHARRELL's 2006 solo debut In My Mind received the same treatment with QUESTLOVE and JAMES POYSER. This time, though, Interscope Records shelved the rerecording due to claims of over-saturation, never amounting to an official release. What's left are the leaked .mp3 files from different sources including QUESTLOVE himself, leaving the lively reiteration of PHARRELL's most ambitious work largely unheard.




MAMACITA is a unique fusion of Latin pop, reggaetón, funk, and rap, a sign of the rapid technological change which lead to more experimentation and genre-bending, something PHARRELL was notably at the forefront of. This song is specially brought to life by its live recording with its lively dance floor/party theme, making it feel like there's a live band at a function. DADDY YANKEE, known as the "King of Reggaetón," adds an authentic ethos to the song in his verse as well. PHARRELL tells a fitting tale of him courting a woman on the dance floor, shamelessly using his wealth and status to try to charm her. It reinforces the image he had already built up for himself as a rich, charming smooth-talker who's also self-aware and can laugh at how ridiculous he probably sounds; you can almost hear him grinning as he tries his hardest to woo her.


3. Kelly Rowland & Pharrell - Feet To The Fire

After a couple of relatively quiet years, 2013 marked a year of major success with GET LUCKY, BLURRED LINES, and of course the career-defining HAPPY, completely dominating the psyche of any living human at the time, and in turn dwarfing any and everything PHARRELL had worked on in the past as well as what he would do in the future. That included his 2014 solo album G I R L, a terrific and peculiar project that remains somewhat under the radar with its comparably inoffensive and commercial sound. You can immediately ballpark when a PHARRELL-produced song was made, because he typically stretches the limits of what one can do with the same exact sounds and instruments for at least a few years, and the impressive results are a lesson in itself. This is the case with FEET TO THE FIRE, another lost bonus track and an ironic story about a neglectful ex-boyfriend who happens to be a firefighter.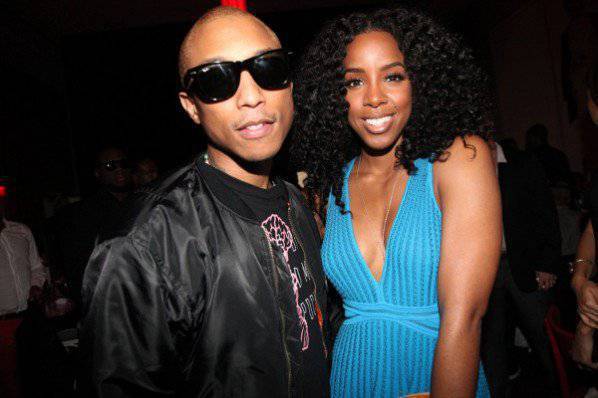 The track's clicking hi-hats and drums are nearly identical to G I R L's opener MARILYN MONROE, and it oozes the intangible breezy and watery spirit of PHARRELL's production work around this time. In contrast to the NEPTUNES's go-to sharp and distinctive clavichord, he started to opt for more serene sounds like electric piano and strings, a choice corresponding to his changing image. After its chorus, the chord progression briefly changes with electronic arpeggios, and it's a subtle but potent change in the track's color. PHARRELL's obsession with song structure is something he's vocal about, and it's a tool that gives the listener a just little more to chew on with a song that's already great.



4. Lil Wayne & Pharrell - Yes

LIL WAYNE's reign in the 2000s was simply uncontested, and it was a rare case of quality and quantity simultaneously remaining at a high level. One of his most infamous lines lands on the PHARRELL featured-and-produced YES: "Weezy F. Baby, and the the 'F.' Is for phenomenal." WAYNE was no stranger to embracing humor in his lyrics, and this line especially stood out as a tongue-in-cheek one, but it was revealed over a decade later that it was actually a mistake, and at the time, he was upset that it was cleared and released to the world. Even though PHARRELL and his associated groups have their distinct and instantly-recognizable sounds, he is a collaborator at his core, and his greatest skill is being able to adhere to his collaborator's vision while still adding his own touch.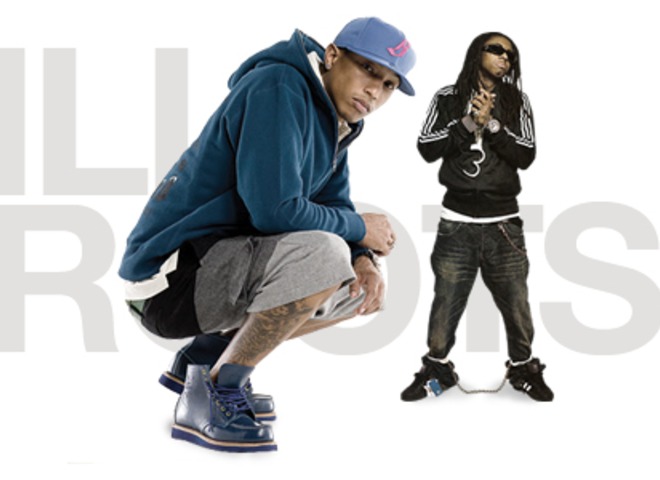 Underneath it all are formless wobbling synthesizers, bumping and looping aimlessly. It's almost impossible to know what key the song is supposed to be in, a quality that reminds me of the NEPTUNES-produced "MR. ME TOO," (which ironically was thought to be a diss to WAYNE). The song gives you a guttural and primal feeling because of it, and it makes it hard to forget as well. Lathered in a robotic autotune even stronger than WAYNE's, PHARRELL spews the most disgustingly rich and vengeful hook about his authority in the club. It's perfectly in line with the exaggerated opulence PHARRELL had popularized and was synonymous with, but there's only one thing missing: his chain.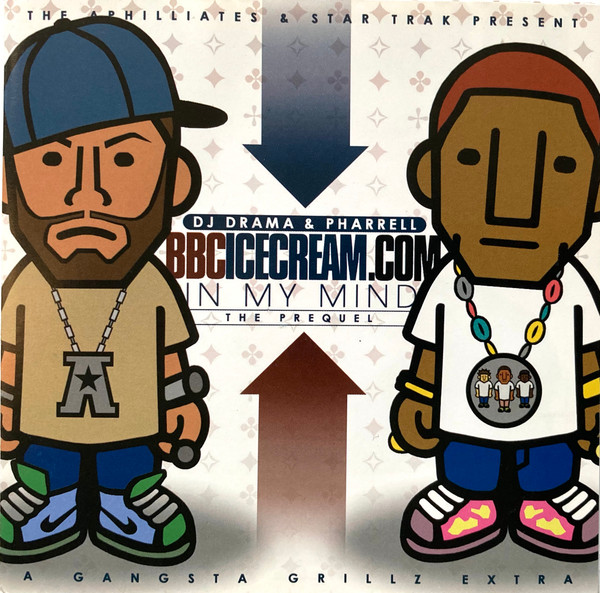 5. Pharrell & DJ Drama -
When Skateboard Came



In My Mind: The Prequel was a mixtape that came to quell fans until his anticipated debut solo album which suffered from repeated delays. Like many mixtapes of the time, it uses beats from famous songs, with the beat from the RZA's LIQUID SWORDS kicking off the tape on WHEN SKATEBOARD CAME. If you want to start to understand what headspace PHARRELL was in and who artists like MADEINTYO and AMINÉ are truly talking about when they name drop "SKATEBOARD P," this is the starting point. DJ DRAMA and his relentless and hysterical ad-libs have recently been a point of reference as well, most notably on TYLER, THE CREATOR's Call Me If You Get Lost.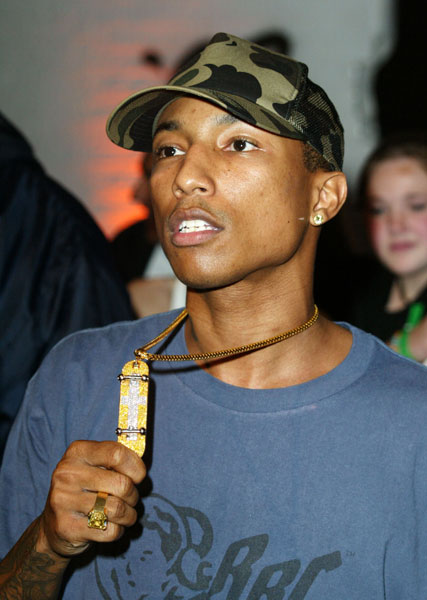 He commences it with repeated false starts, comically reversing and repeating the same lines until you start to question if the file is corrupted as his signature GANGSTA GRILLZ tags are spammed. In its hook, PHARRELL explains the paradox that artists like himself and KANYE were creating in hip-hop: "When lil' SKATEBOARD came with them big-ass chains…Backpackers thought my mind was gone." As an artist so heavily involved in hip-hop, PHARRELL was able to be multiple things at once and be comfortable in different spaces that weren't traditionally embraced, like skate culture. At the same time, though, he took the gaudiness of 2000s bling-era hip-hop to new extremes, by being one of the first to have such colorful, large, and cartoonish chains. The song is a symbol of the changing attitudes in the culture led largely by PHARRELL, creating a precedent for more people and artists to embrace different niches and exist as a complex individual, not pigeonholed by one archetype.


6. Pharrell - Creamsickle
Yo! Chris Chance checking in. Christopher wrote the amazing article you just read, but before we wrap it up I GOTTA include this one. Pharrell really was on some shit during this time and the vocals/lyrics on this are the peak of the "pretty boy-smooth operator-flyest nigga of all time" vibes from P. Go listen to this one with a silk shirt, unbuttoned of course. Maybe take your shoes off and keep the socks on so you can go full Michael Jackson on your hardwood floors. Because this sounds like what MJ woulda been on if he wore nothing but japanese streetwear brands. I think the main thing to take from this article is that he has done every and anything we love FIRST. What a guy, thank you Pharrell and Chad Hugo for bringing us this art for so many years... the ultimate point of reference.
madeintheurl 2023