What You DIDN'T See
The truth about
Frank Ocean's Coachella Set
Written by:
Thomas Miller

.
︎

It's time to set the record straight. Social media is lying to you. Yes, this is an op-ed piece. Frank Ocean's headlining Coachella set was iconic and truly the definition of artistry at its finest form, despite the obstacles that came with it and the aftermath that has followed.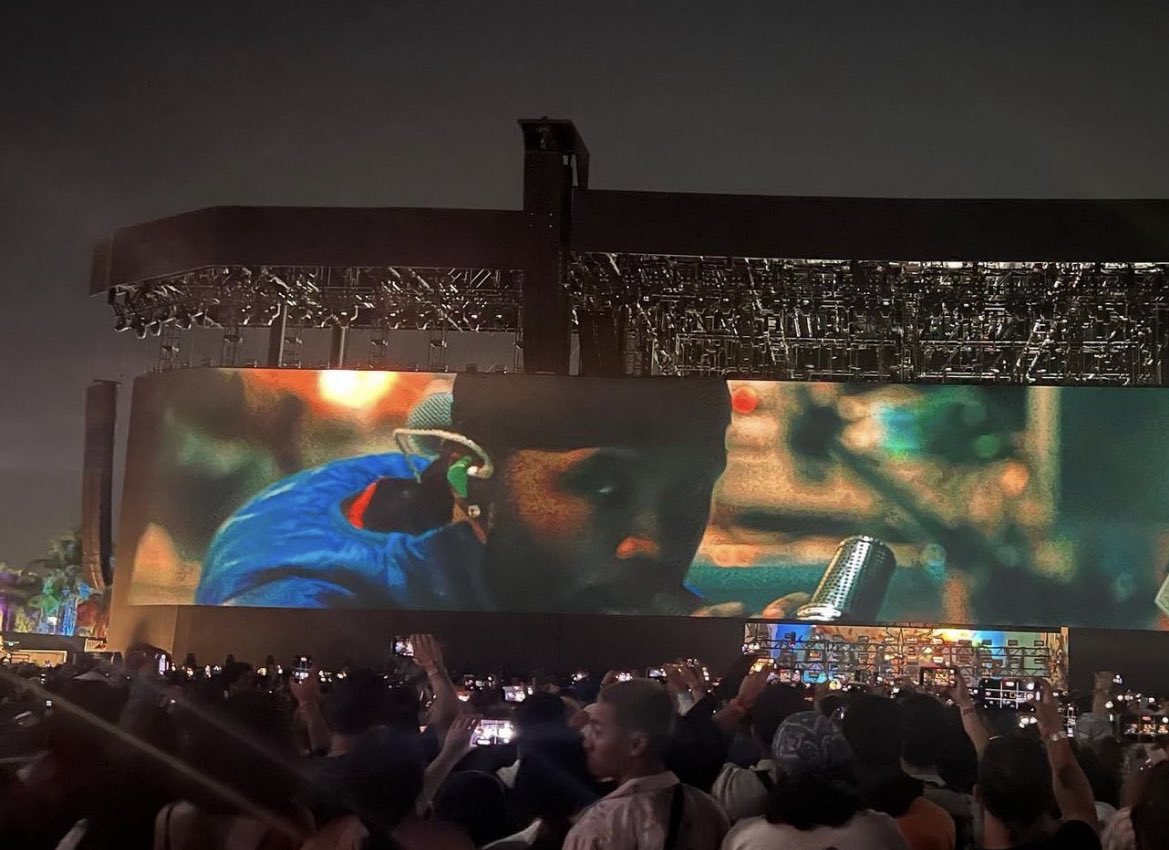 Frank was approximately 57 minutes late to his headlining set, something irrgular to Coachella. Coachella usually has their acts perform on time for the most part, but he is certainly not their first headliner to have shown up excessively late. Given the information around Frank's ankle injury, the delay is understandable. His elaborate stage design with an intricate ice rink had to be scrapped due to his injury. What would have been a truly scenic and tranquil sight will likely remain a mystery of what could have been. Ice skating on an injured ankle can be a challenging task, so you can't get mad at him for scrapping that and changing the stage design at the last minute causing the delay, he physically could not do what he wanted to do.




The new stage choreography was the scrapped ice rink skaters walking down and forth behind a metal frame for a lighting rig. When they began this choreography, the audience came to an abrupt lull, a welcoming sound after all the Frank Ocean fans talked non-stop through Björk's tantalizing show of dreams and magic earlier. The audience erupted when the first song Frank performed was "novacane", accompanied by a fresh mix to it which would also be a small introduction to the new sounds Frank would present to his audience. Unlike his stripped back band during his 2017 festival run, this live band gave a fresh more upbeat pace and tempo to his iconic songs.




After debuting his blonded radio freestyle, "Come On World, You Can't Go!", he returned to Channel Orange for "Crack Rock". This is where we first hear how great Frank's voice has become. Hitting challenging high notes, his voice gracefully shined and reminded us of how everyone has greatly missed his presence in music.



"White Ferrari" is where the true new sound Frank has been experimenting with and approaching for the past few years is heard. This new mix presents us with a grooving backing electronic beat that shined a new light on the track and brought new found love for the track for some (very few it seems). He would continue to lean on this newer electronic sound as he progressed through the set and transitioned into the DJ set by Crystallmess. This is the part of the show which seems to have vilified Frank all over social media.

The audience listened to New Jersey club-like mixes to "Chanel", "Lost", "Slide", "Provider", "In My Room", "No Church in the Wild", "Pyramids", and they even snuck some Ice Spice in there. My surrounding friends and I loved it, we were dancing like we were in Despacio (James Murphy and Soulwax's intimate club on the Coachella grounds) again. But, as I looked around no one else was dancing. This was surprising to me, as this was the sound Frank had been hinting at for years.


Frank released two singles featuring electronic flips, "Dear April" with a remix from Justice and "Cayendo" with a Sango remix. Both are very club like electronic tracks that are the same exact sound from this mixed in DJ set. He even hosted parties with this sound at the forefront of attention. Down in Basement, located directly below the Knockdown Center in Maspeth, Queens, Frank's PrEP+ nights were intimate club nights featuring incredible electronic artists such as Vegyn, Sango, Arca, and Justice. Having attended both PrEP+ and his Coachella set, they both gave me the same exact feeling. Ecstasy in the moment when you should be dancing, except I turned around and nearly no one else was.




Continuing with the experimentation, he introduced the crowd to a hard rock version of "Wiseman", this was the peak moment of the night for me. This heavy sound was so unexpected and left the audience in shock and awe. It was fitting, proper, and perhaps the only time possible one could form a mosh pit to a Frank Ocean track, so my friends and I did just that. The rest of the audience seemed to be just frustrated and annoyed by this. This was the defining moment of the night to me. An abrupt, harsh sound that juxtaposed the sweet and serene sounds the audience expected to hear. But that's where they are in the wrong, expecting the same old things from Frank.

The world has not received a proper album from Frank Ocean in nearly 7 years. In the meantime, Frank has approached newer sounds in which he intended to bring to the world, but that dream came to an abrupt halt due to the COVID-19 pandemic. That was nearly 4 years ago, the news of an electronic sound for Frank is not new, but the internet seems to assume it is. It is foolish to assume Frank would play the same exact versions of songs he debuted years ago live. He is elusive and notoriously known to not perform live often. Given the rarity of each performance, it would make no sense to an artist to continue using the same exact sound. Verbatim would be useless to elevate the art. These new mixes were fresh introductions to familiar tracks. A song we love, but the opportunity to hear it new again for the first time with tens of thousands of others. We heard something new, fresh, and different. It may not have been what you wanted or expected, but it just might have been what you needed.




Further uproar ensued over people saying he barely sang and just lip-synched over tracks like "Nights". If you look back on videos of this moment I simply don't understand the hate. Frank danced around the stage displaying the raw emotions of what can only be described as a victory lap for him. Being in the moment, vibing to your iconic song in front of tens of thousands of people coming to see you. The song is great and he knows it. He was embracing the love for the track and displaying gratitude doesn't necessarily require singing it. The same people in uproar for Frank not singing during "Nights" are probably the same people who had no issue when Calvin Harris didn't actually sing his verses when he played "Summer" or "Feel So Close"on Saturday night.



The set ended abruptly when Frank informed the audience that he was past the 12am curfew for the festival. Could that have been avoided if he didn't switch up his stage design at the last minute? Maybe. But an injury is something difficult he had to overcome and he did what he could to make the best of it.

Finally after getting out of the labyrinth of cars in the parking lot and back to a 5G signal, our phones glowed in our hands as we were bombarded with texts and social media notifications about how "bad" Frank's set was. The car was filled with disbelief and confusion as we all had the time of our lives and thoroughly agreed that it could have been one of the greatest performances ever had it not ended early. The sound I heard was the sound of an artist approaching newer ground. Challenging the status quo of what is (apparently) expected of him by his fans and he mastered it. These upset fans are the same ones he had to tell to be quiet so he could share a heartfelt message about his brother, who tragically passed away in 2020 in a car accident. He reflected on the moments and memories he had with his brother at previous Coachellas and it was evident he is still dealing with the loss. His performance was visibly a moment for him to help deal with the grief and the pain of loss. Frank really shined in masterful reworks of old favorites and presented new sounds to paint a new landscape on what will be the next chapter of his career.
madeintheurl 2023